What is "YUKATA"?
YUKATA is made up by the most simple structure and you can enjoy it casually. The texture of it is so durable and strong against water, that people in Japan have loved YUKATA as a national costume since early times.
The number of YUKATA users is getting fewer than in old times, but still there are a lot of YUKATA lovers, because of its atmosphere and convenience. It can be said that YUKATA is one of the traditional culture of Japan.
History
The first YUKATA was created one thousand years ago. Namely, its history was very old. At that time, people had the habit of bathing in crowds, so that they began to use YUKATA to cover their bodies as a undergarment for soaking sweat up. At the start, using YUKATA is limited to some people, however, about 450 years ago, it was generalized for folks.
Uses
YUKATA is slipped into as a nightwear in summer after bath owing to its good point, ventilation. Originally, it is a everyday cloth so that people used to use it as a dressing gown, but at present, YUKATA is one of the summer street clothes. There are various colors and patterns, therefore, we can enjoy it on the occasion of summer festival and going out to see fireworks, and so on.
On the other hand, the actor of Japanese traditional culture, KABUKI or SUMO wrestlers wear YUKATA as a everyday cloth. You may see them on T.V.
Furthermore in Japan many Hotels and Ryokan-Inn prepare YUKATA for guests, but some accommodations ban on going out with YUKATA to the lobby or outside. Basically in the hot spring resorts, it is taken no notice, but at the Hotel in the city, it may be forbidden. Depending on the location or situation, the rule is different, so you should check it out to the hotel clerk.
YUKATA is made of thin fabric for the purpose of letting air, for the reason you should take attention to the underwear not to be seen through. Don' t use dark color underwear under the white YUKATA. We recommend YUKATA for a bathrobe, or a dressing gown and a relaxing wear in your room or garden.
Shapes
The shapes of YUKATA is very simple, it looks like a full-length coat.
First, you let your arms in loose sleeves, then pile both right and left body parts of garments and tie up your body with belt.(attachement for YUKATA) It is good for YUKATA to be worn directly or with only underwear.
You are free from coordination of pants and shirts, or its colors…You wouldn't be worried about how to cope with it.
Still more YUKATA has enough textile in reserve, so your body would be concealed, and you need not take attention to the exact size. Even though if you change your figure in the future, you can keep on wearing YUKATA relaxedly. There is a plenty of wear in YUKATA conveniently.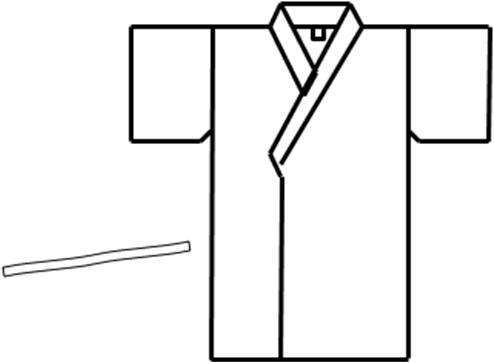 YUKATA is basically dyed indigo blue using white cotton. In recent years, it is getting popular among people owing to variety of designs and brilliant colors. As a results, it comes to be difficult to tell YUKATA from other KIMONO wears for foreign guests.
A great number of YUKATA and KIMONO that our company keeps in stock and are now on sale are distinguished into a category of material and form.
「YUKATA」
YUKATA is made of cotton for YUKATA.
「KIMONO」
The shape of KIMONO is almost same as YUKATYA.
But textile of KIMONO is more thick than YUKATA so that you are pleasant to the touch. We use cotton satin or polyester for KIMONO.
「HAPPI-COAT」
The length of HAPPI-COAT is shorter than YUKATA and KIKMONO.
It's about knee-high size. We introduce many kinds of HAPPI-COAT to you regardless of material.
「JINBEI」
JINBEI is composed of both top and bottom parts. It is general that it's made of cotton for YUKATA. We recommend JINBEI to those who are busy in working and playing child or who care about baring their chests in case the belts is loose.
「For Kid's」
We are offering a lot of items besides YUKATA made of cotton or cotton satin which are quite reliable material for children.
「SILK」
We are offering fine KIMONO made of superior silk satin which you can feel
pleasant to touch.

HOW TO WASH
Before laundering you need to check the material of our products.
・Cotton/Cotton satin:
It's OK to wash in a washing machine. The finishing is ironing without steam. You can iron out the wrinkles easily only pushing iron softly in several times.
・Other material: Polyester, Silk, Cotton especially embroidered:
A way of washing is differ from normal cotton. We have attached indication, laundry tags on all goods, so please refer to them when you are going to wash perfectly.